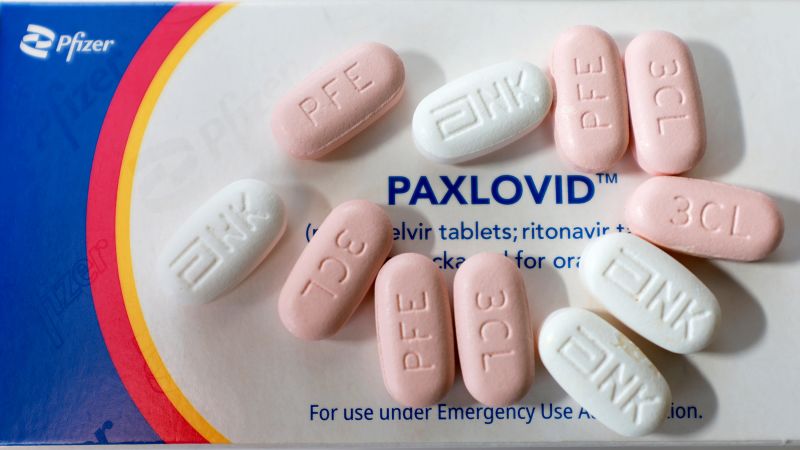 CNN —
As the US Food and Drug Administration's independent advisers prepare to discuss Thursday the full approval of Pfizer's Covid-19 antiviral, Paxlovid, agency experts said this week that clinical trial data shows that it is safe and effective for treatment of mild to moderate illness in high-risk adults.
The agency also concluded that Paxlovid is not associated with Covid-19 rebound, in which people test positive or see their symptoms return after they finish the five-day course of the drug.
Over 8 million people in the US have received Paxlovid, a combination of the drugs nirmatrelvir and ritonavir, since it became available under emergency use authorization in December 2021. The FDA's Antimicrobial Drugs Advisory Committee will meet Thursday to discuss and vote on full approval for mild-to-moderate Covid-19 in adults at high-risk of severe disease.
The FDA, which typically follows the committee's recommendations, is expected to complete its review for approval in May.
Data from phase 2 and 3 clinical trials supports the efficacy of Paxlovid regardless of Covid vaccination status or prior infection, the FDA says. The agency also said it is reasonable to conclude, despite limited data, that Paxlovid is "likely to retain clinical efficacy" in high-risk adults with Covid infection caused by the Omicron variant of the coronavirus, as with earlier variants.
The FDA said it reviewed data regarding Covid-19 rebound, which some users have reported since Paxlovid was authorized in 2021. Last year, both President Biden and his former chief medical adviser, Dr. Anthony Fauci, reported rebound symptoms after taking Paxlovid.
However, based on clinical trial data, the FDA said it "did not identify a clear association between Paxlovid treatment and Covid-19 rebound."
Covid rebound rates ranged from 10% to 16%, with no difference between people who took Paxlovid and those who got a placebo. This was also regardless of a person's risk of severe disease with the Omicron variant compared with the Delta variant, according to clinical trial data reviewed by the FDA.
Overall, the agency said the findings indicate that Covid-19 rebound may occur in a subset of infections as part of the natural progression and resolution of the disease.
No major safety concerns were identified in the clinical trial data, the FDA said. However, the agency has flagged several medications with drug-drug interactions (DDIs) with Paxlovid that may lead to serious adverse reactions.
Paxlovid may keep the body from metabolizing certain drugs, leading to higher drug concentrations that can lead to serious or life-threatening reactions, according to an FDA Emergency Use Authorization Fact Sheet. Drugs that should not be taken with Paxlovid include some medications to treat conditions such as gout, migraine, irregular heartbeat and benign prostatic hyperplasia.
"In order to safely prescribe Paxlovid, the potential for DDIs needs to be considered by all prescribers, both to take actions to manage DDIs and also to determine whether Paxlovid is an appropriate treatment choice for each individual patient when factoring in the risks of serious adverse reactions due to DDIs," the FDA says.